GENEVA (PNI) Amid credible revelations that India was directly involved in murder of. Sikh dissident in Canada, Kashmiri activists Friday raised alarm bells outside UN Human Rights Council in Geneva.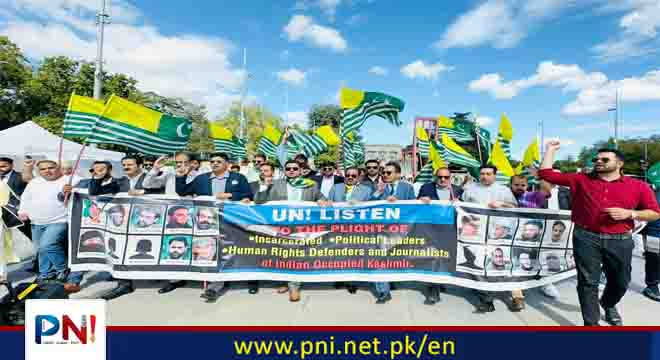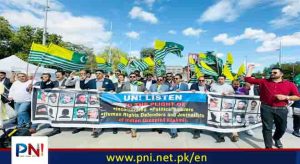 "Wake up, wake up, UN wake up," yelled Kashmiris outside world's top human rights office.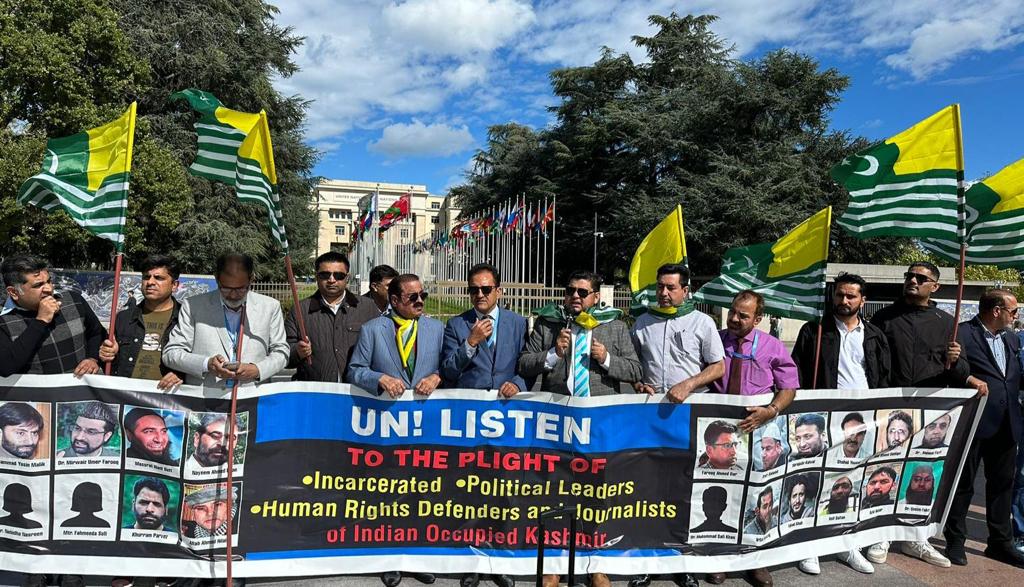 Raising banners and slogans seeking release of Kashmiri political prisoners, activists and journalists, the activists said: "this is the wakeup call for the human rights organizations, defenders and governments. Else, India will go rogue everywhere in the world which is threat to innocent people."
Ch. M. Yasin, opposition leader of Azad Kashmir; Fahim Kayani, president Tehreek-e-Kashmir UK; Altaf Hussain Wani, head of Geneva Kashmir Delegation, Asif Jarral Friends of Kashmir France , Attiq Zubair Deputy Sec Gen Tehreek e Kashmir Italy led demonstrations outside UNHRC in Geneva seeking attention of the international community.
"It is high time for the human rights council to take suo moto notice of extra-judicial as well as extra-territorial activities of India and hold its official accountable in world court," said Kayani.
The protest outside UN human rights office was held amid revelations by Canada that Indian government agents were directly involved in murder of Sikh activist Hardeep Singh Nijjar in June this year.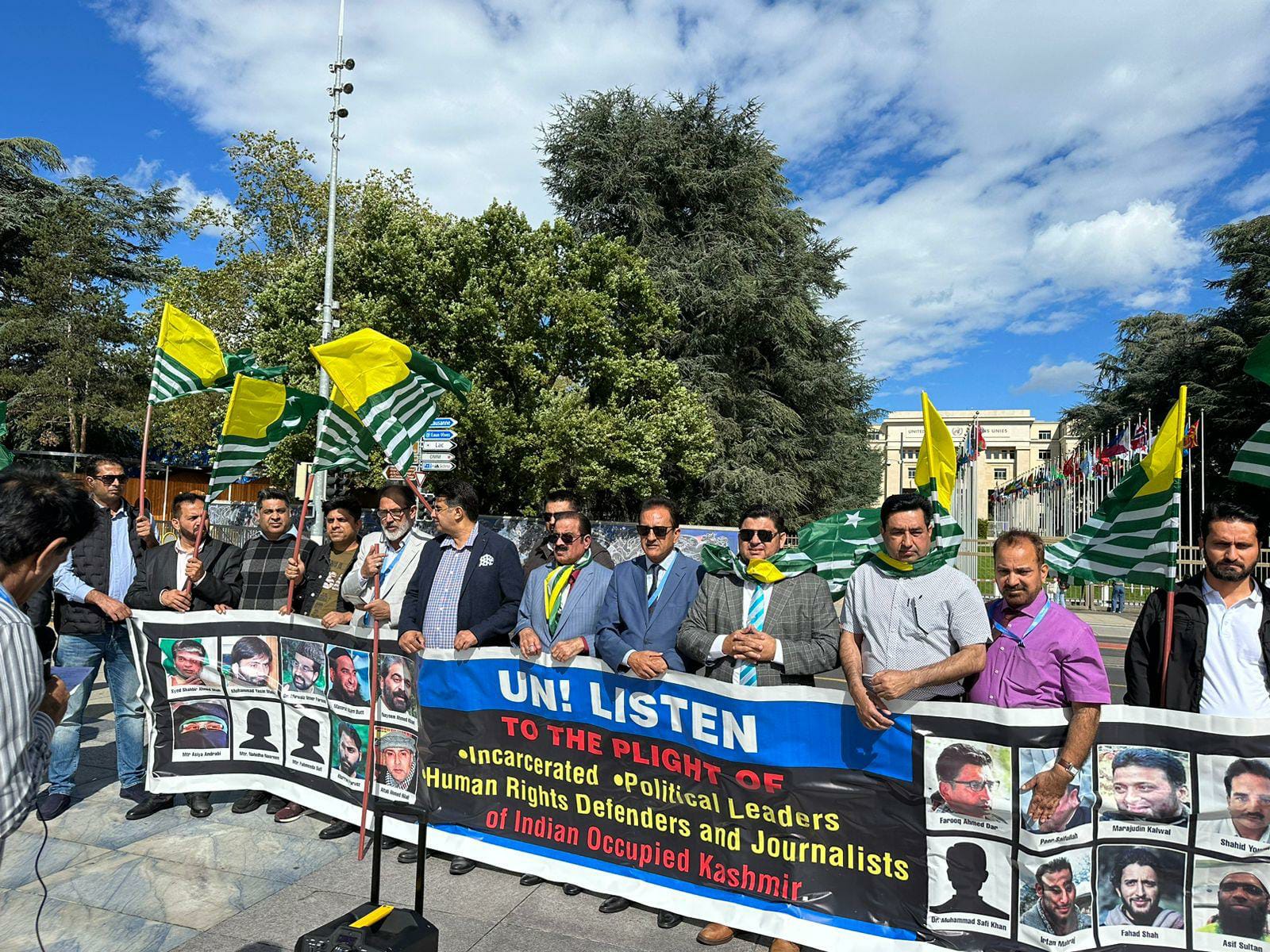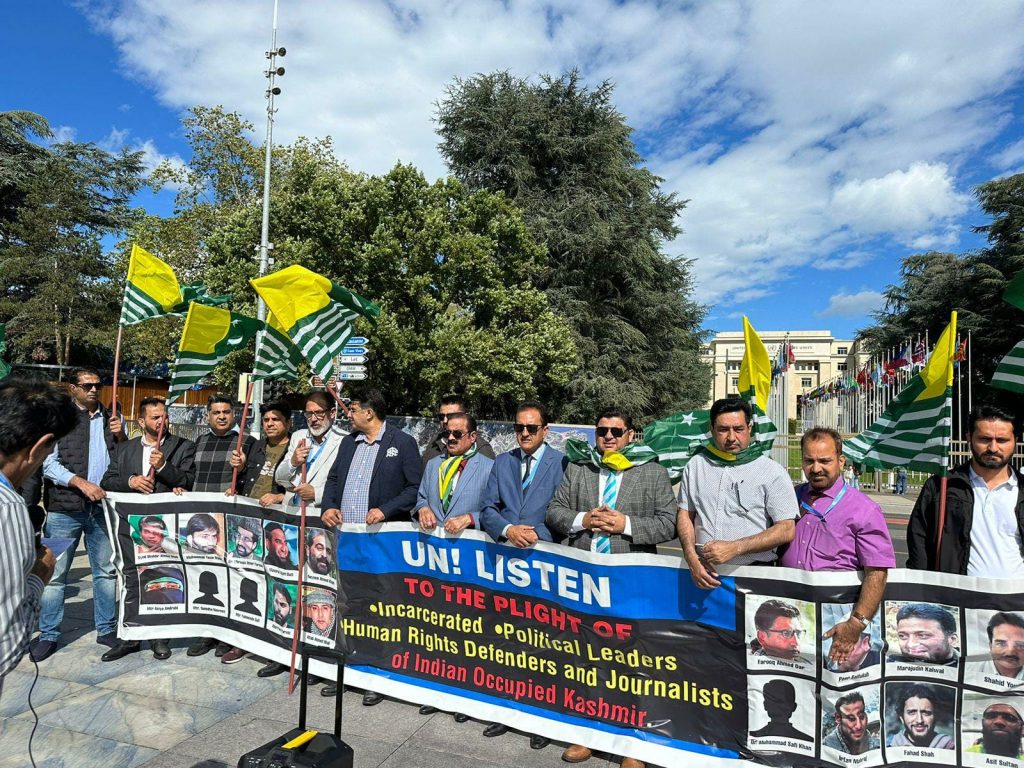 "Our demands of challenging Indian illegal actions have now been supported by claims made by Canada that the rogue administration in New Delhi is violating international law and has become threat to international peace," said Kayani.
Emphasizing on role of UNHRC, Yasin called for international campaign to expose India and building a case against New Delhi for her illegal actions.
Wani demand release of Kashmiri political prisoners and journalists without any condition.
"They are in jail just because of their demand that Kashmiris be granted right to self-determination," he said.
Sardar Amjad Yousaf , Faiz Naqshbanidi, Pervez advocate , professor Shagufta , Dr Waleed Rasool a also participated in the demonstrations vowing to strengthen voice against India to get freedom for Kashmiris in Indian Illegally occupied Jammu and Kashmir.